BODY TREAMENTS WRAPS & SCRUBS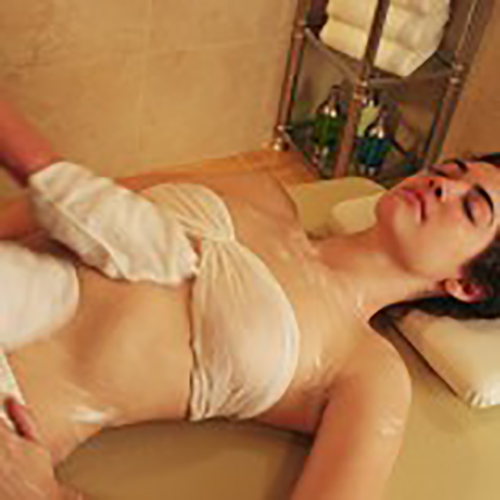 Day Spa Body Treatments
Slimming.Anti-Cellulite.Inch Loss,Skin-Firming.Body Scrubs.Skin Polish.
Full Body Dry Exfoliation
Ideal to have just prior to having Body Wraps.A Dry skin brushing is performed whit the use of a brush made a fibrous material .Removes dry skin cells and surface impurities -refresh,re mineralizes ,helps stimulate and increase circulation .Add prior to any other treatment session not a stand alone treatment.
Sugar Body Scrubs
A body scrubs use a loofah sponge in combination with sugar and warm oil to exfoliate and improve circulation. Can allow you to slough off the pressures of your everyday life and  travel to a place where you're the only one who matters. Add prior to any other treatment session no to a stand alone treatment.
Salt Glow & Moisturizer
In this body treatment ,the entire body is moistened then a salt and oil mixture is then gentle massaged and scrubbed over your entire body in a small circular motions that begin at your hands and feet and works toward the heart .The Salts are rinsed off with a hot towels compresses .The body is patted dry ,with a moisturizing Shea butter massaged  into the skin the skin to enhance the effects of the salt glow treatment.
Body Wraps
All our body wraps include dry skin brushing prior to treatment and application of moisturizer to finish.
A body wrap can be a mixture of clay ,natural seal salt  ,mixture of herbs ,seaweed and teas.Herbal body wraps  works on  the lymphatic fluids which surround every cells in the body .Body wraps are great for anyone who wants to improve tone and tighten the look  and texture of their skin used for relaxation to eliminate impurities and to detoxify ,increase circulation within the body improves the appearance of cellulite and restore elasticity and firmness for healthier younger looking skin .
Duration: 40 Minutes to 2 Hours